Club News
View All
Advisories
Notices
03 April 2020, Friday -
[ADVISORY] - CLOSURE OF CLUBHOUSES AND ALL FACILITIES AT NSRCC CHANGI & KRANJI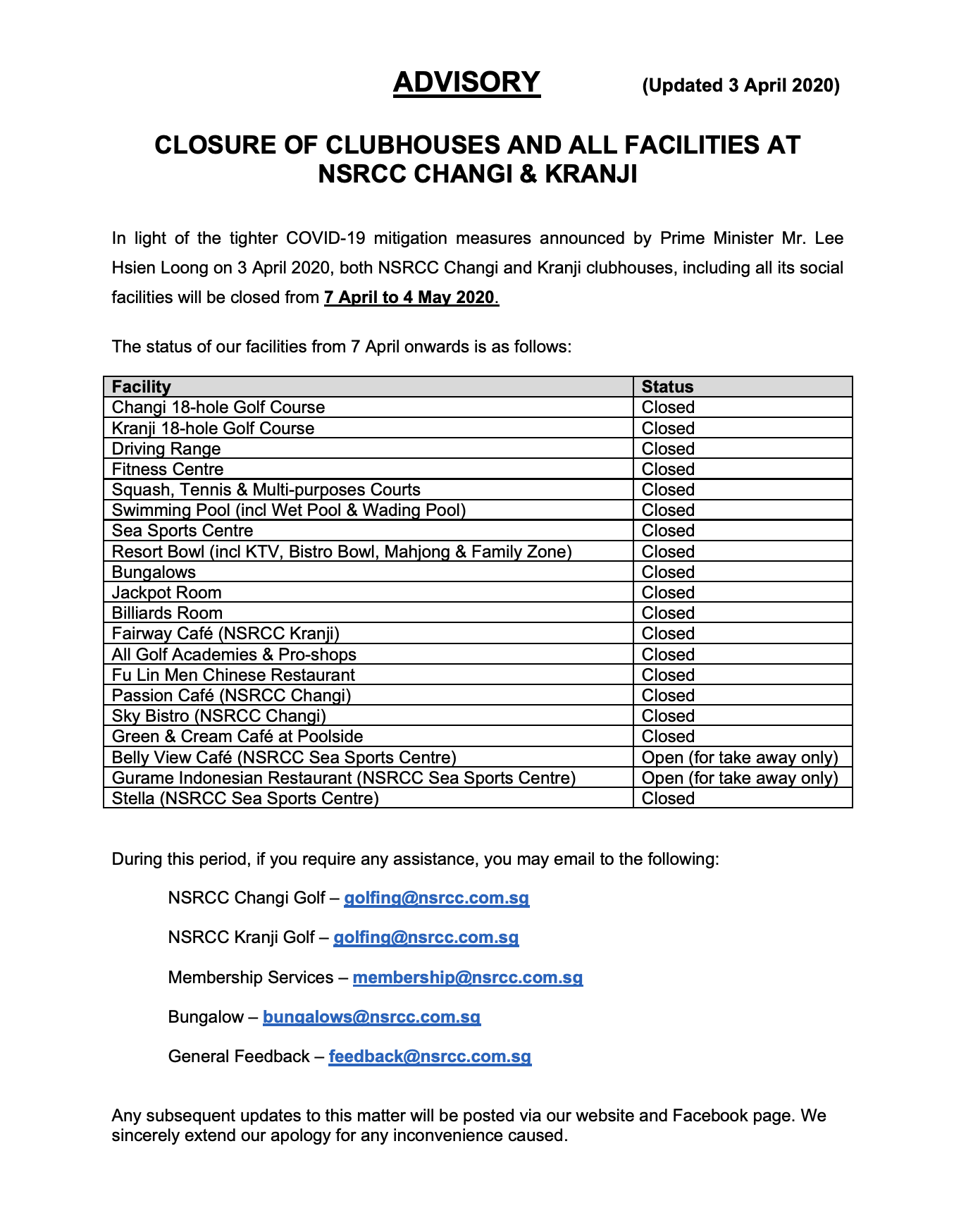 31 March 2020, Tuesday -
[ADVISORY] - REVISION OF GOLF OPERATIONS AT BOTH NSRCC CHANGI & KRANJI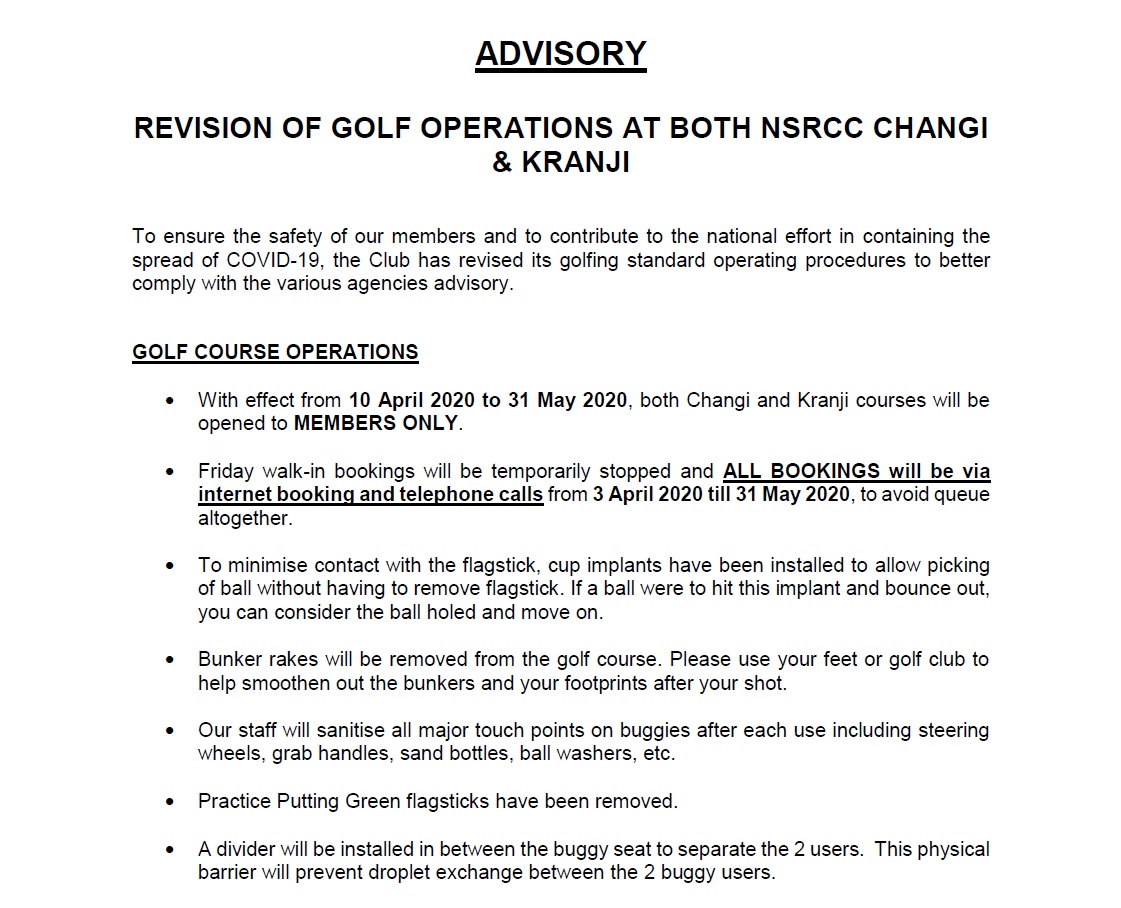 27 March 2020, Friday -
[ADVISORY] - NSRCC FURTHER ENHANCES PRECAUTIONARY MEASURES TO CONTAIN SPREAD OF COVID-19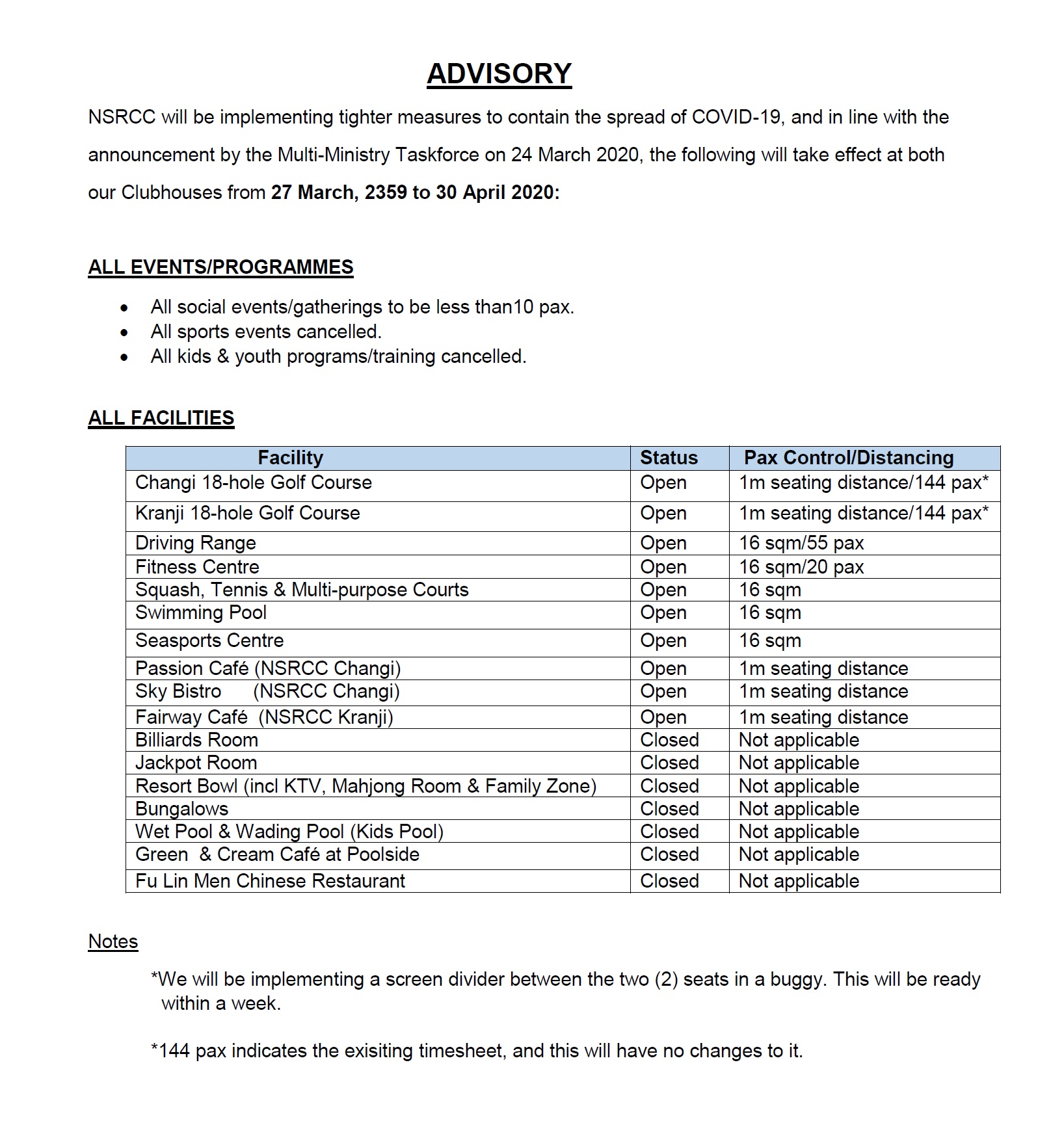 26 March 2020, Thursday -
Notice on Measures to Minimise Activities at Resort Facilities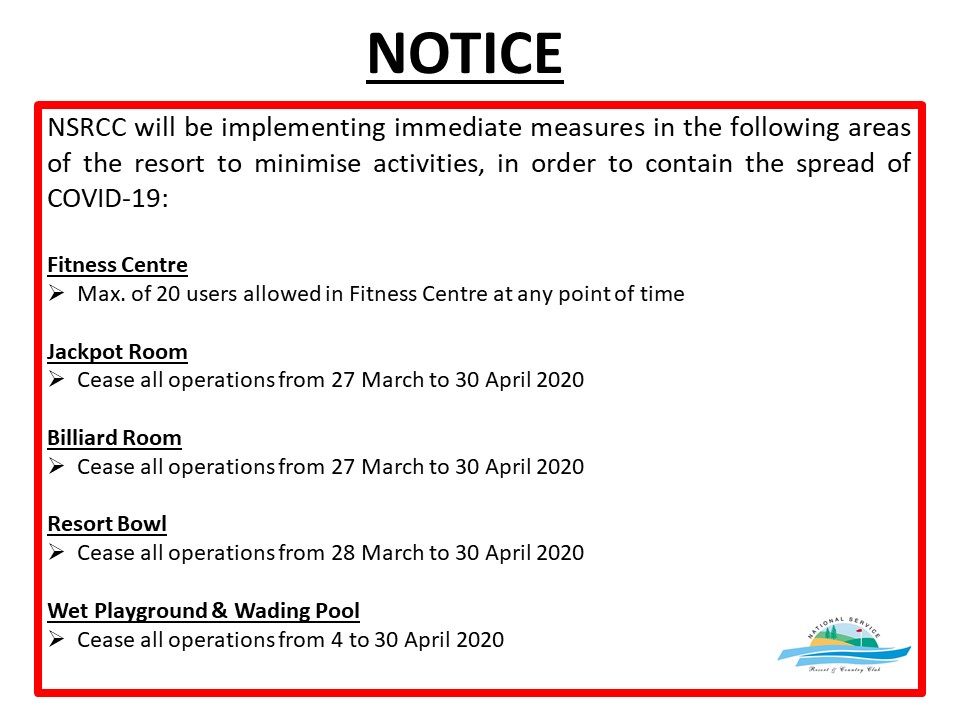 26 March 2020, Thursday -
Notice on Temporary Cessation of All Golfing Reciprocal & Affiliation Agreements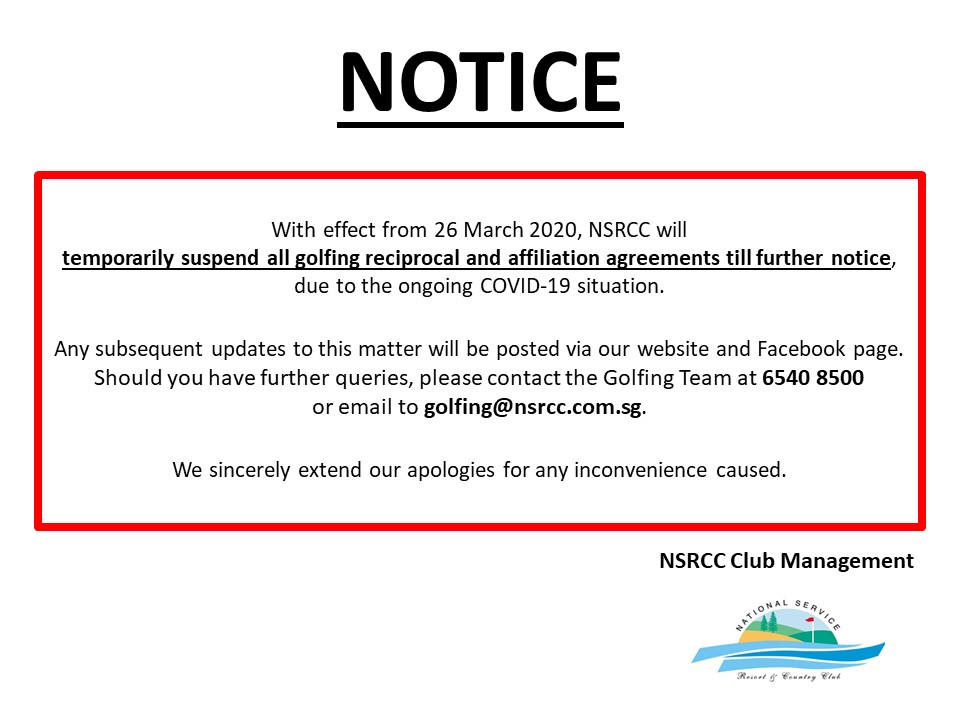 25 March 2020, Wednesday -
Notice on Cancellation of Mercedes Trophy Qualifying Round
22 March 2020, Sunday -
[ADVISORY] - WITH IMMEDIATE EFFECT: NSRCC ENHANCES MEASURES FOR COVID-19
To prevent community spread of COVID-19, the Club will impose stricter access control to our facilities. All individuals who have recently returned from ALL other countries (not just limited to COVID-19 affected countries) in the last 14 days prior to visiting the Club will be refused entry.
Declaration forms are also required and made mandatory to be filled up upon every visit, so as to enable contact tracing. We appreciate all visitors return the forms to enable effective tracing in time of confirmed cases, and this will help those in danger to get immediate help, including you and your family.
Social distancing will be implemented throughout all our facilities, so please look out for the markings on the ground during queuing. F&B outlets will also re-arrange their layouts to space out diners.
We seek for your understanding that such enhanced measures may cause some delays and inconveniences in various areas, from clearing the guardhouse, to slower speed in F&B servicing due to the newly implemented spacing out of tables.
The enhanced measures have taken immediate effect for everyone who has returned from overseas. These would include people who have come back from Malaysia before 20 March 2020. This is more stringent than the MOH guidelines, and NSRCC, along with many other organisations, practice enhanced control in view of its roles in serving NSmen, an important core of National Defence.
This is a rapidly evolving situation and NSRCC would like to seek the cooperation of our members and guests, so that we are able to work closely with you on this matter to ensure the safety of everyone at this time of crisis.
Thank you.
• Note:
Example: If a member returns to Singapore from overseas on 12 March, the 14 days would mean that from 13 – 26 March, he should refrain from entering the Club. He will be able enter the Club from 27 March onwards.
14 February 2020, Friday -
NSRCC Bungalows Activated as a Government Quarantine Facility (GQF) in view of COVID-19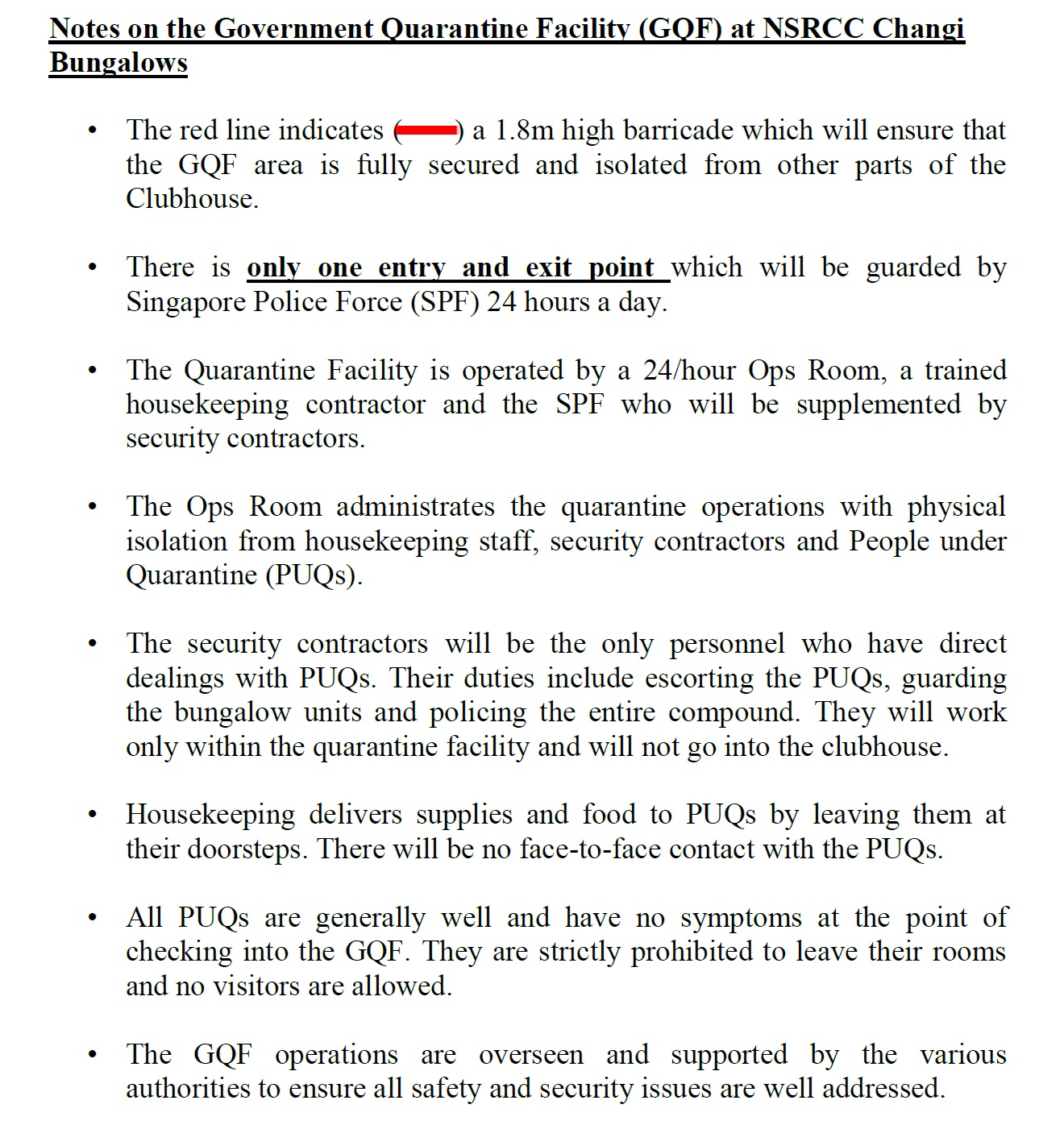 ​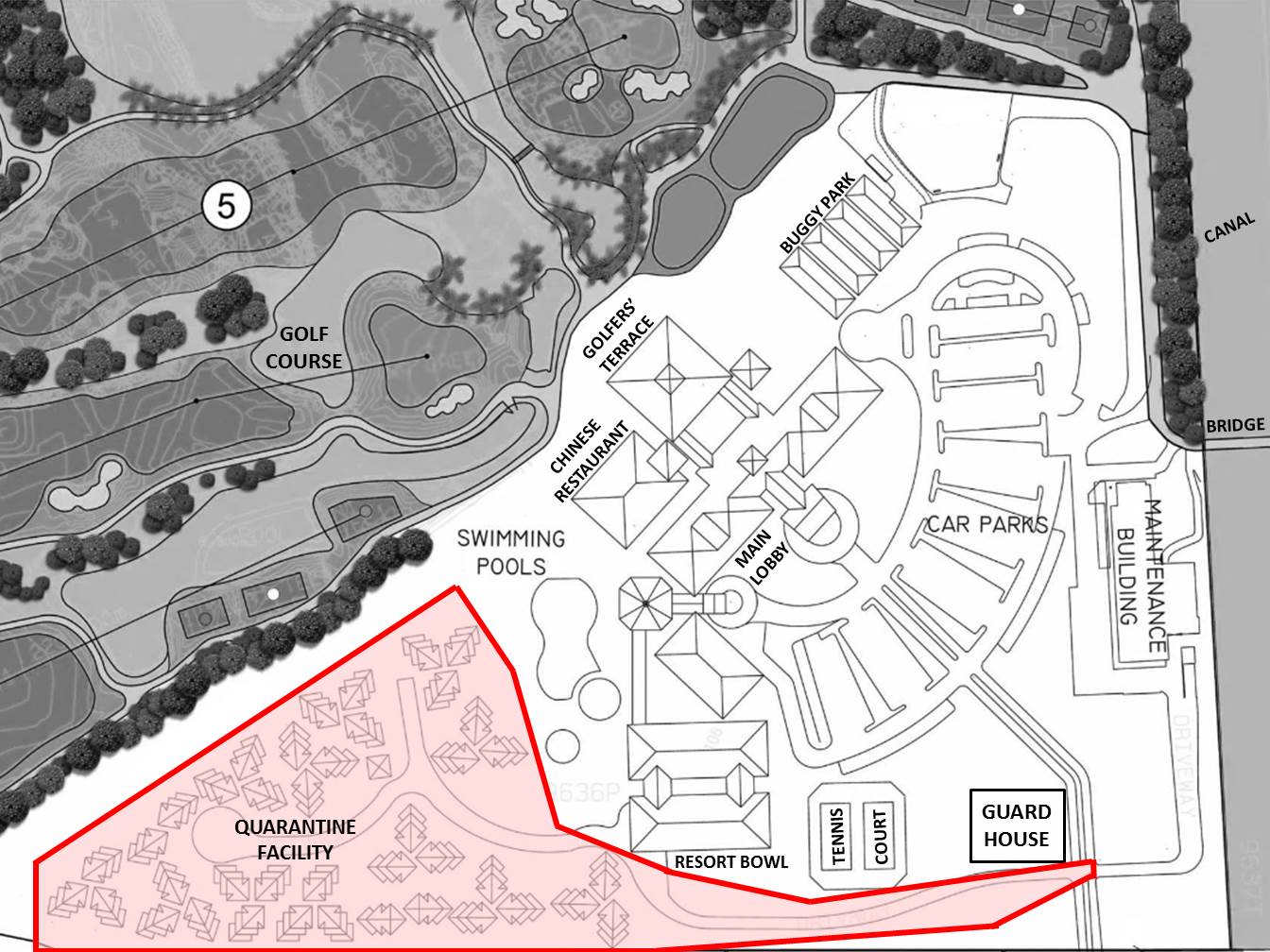 ​
11 February 2020, Tuesday -
Notice on Change of Operating Hours for Fu Lin Men Chinese Restaurant and Passion Cafe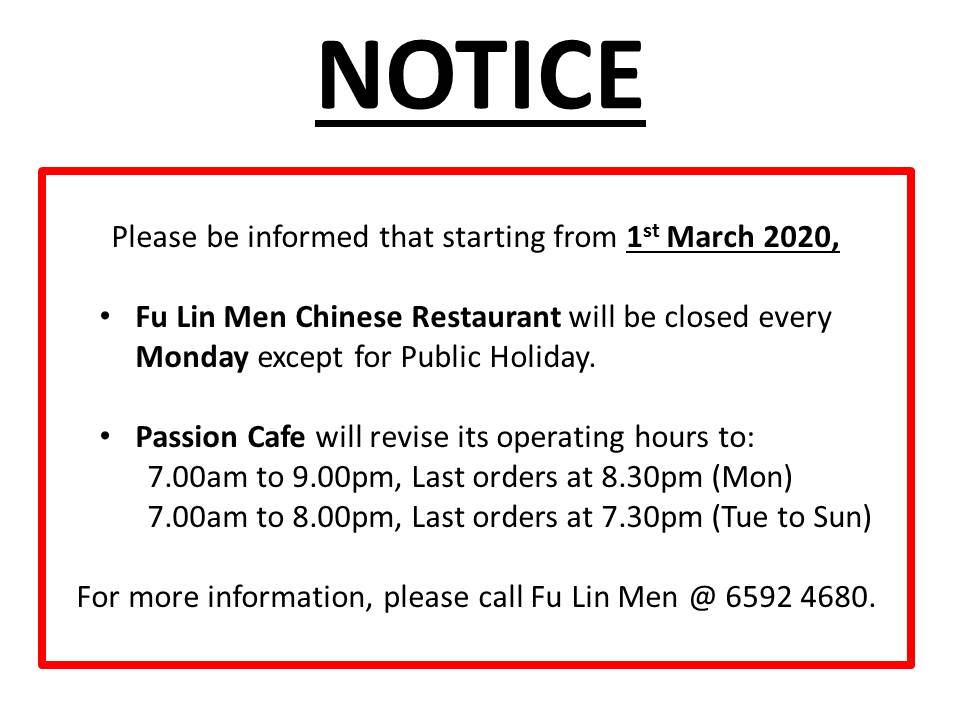 07 February 2020, Friday -
Temporary Change of Pick-Up Point for NSRCC Changi Shuttle Bus Service