Introduction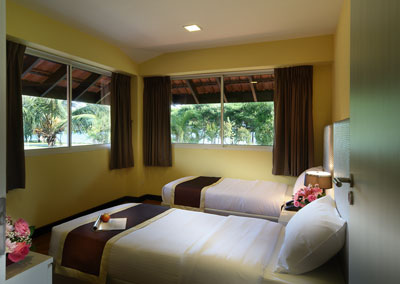 Just like a home away from home, our bungalows offer you a tranquil stay with family and friends, with the luxury and conveniences of a country club.
Furnished in contemporary decor, we offer 40 two-storeyed stunning bungalows that come fully air-conditioned and beach-fronted, to make you feel welcome and right at home upon your arrival.
In each unit, there are two cosy bedrooms as well as spacious living and dining areas. For your utmost comfort and convenience, each bungalow is equipped with a kitchen that offers the basic necessities such as a fridge, freezer, microwave oven, electric air pot, induction cooker and cutleries for up to 8 persons.
With breath-taking views of Changi Beach, you can enjoy the cool sea breeze while sipping wine at the verandah, while your family has a cookout at the private barbeque pit located right at your door step.
For those who enjoy the indoors instead, can relax while being spoilt for choice with programmes from 24 channels in our cable TV selections.
There is never a dull moment at one of the most popular facilities at NSRCC.
Book your ultimate staycation right over here!
bungalow
Bungalow Amenities
2 cosy bed rooms (twin-sharing)
2 shower rooms equipped with bath & handtowels, toiletries and hairdryer
55-inch TV with access to 24 channels
A fully-equipped kitchen
Exclusive use of private barbeque pit
Fully air–conditioned rooms